Meet the Audiologist
At Blue Sky Hearing, we're committed to helping our patients restore their hearing and improve their quality of life. Armed with the latest hearing loss treatments, we'll help you get back to doing what you love. Meet our highly qualified audiologist.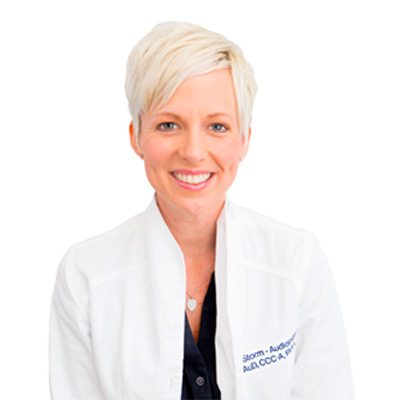 Susanna Storm, Au.D., CCC-A, FAAA
Doctor of Audiology
Washington University School of Medicine
Raised by parents who owned a dental practice for 40 years, Dr. Storm is not new to private practice. She graduated with honors with a B.S in Communication Sciences and Disorders from St. Louis University and a Doctorate in Audiology from Washington University School of Medicine.
With a deep-seated passion for the underserved population, Dr. Storm created the Audiology department for an organization called Give Kids A Smile to provide children of the St. Louis area hearing services. This service lives on today with an audiology team seeing hundreds of children on a biannual basis.
Dr. Storm brings a wealth of knowledge from working in many clinical settings, including working for a hearing device manufacturer as a regional representative, audiology trainer, and business developer. Seeing private practice from many different viewpoints, it was a natural progression for her to open her own private practice. She believed that it was time to create a place where patients could experience truly innovative, comprehensive, and modern hearing services.
There are many solutions for those with hearing loss and tinnitus and her passion is creating personalized solutions for each and every one of her diverse patients. You'll find that she's the first one to smile and wholeheartedly believes that connecting you with others through exceptional hearing is the most important part of life